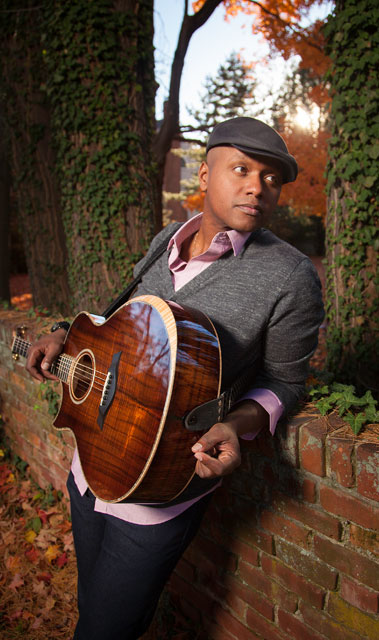 Blessed with a stunningly soulful voice, an uncanny songwriting talent, a charismatic personality and a commanding stage presence, Javier Colon has already won the attention of an international fan base that's embraced his personally-charged, acoustic-textured blend of pop, rock and R&B, an effortlessly distinctive style that he's dubbed "acoustic soul".
Having been introduced millions of TV viewers as the winner on the inaugural season of NBC's The Voice, singer-songwriter-guitarist Colon is set to take his recording career to the next level with Gravity, his fourth album and his first for Concord Records.
Colon set the stage for Gravity's release with some recent overseas successes, including a run of shows in Japan with renowned jazz saxophonist Dave Koz, and a series of concerts in Mexico and South America with Maroon 5 (whose frontman Adam Levine was Javier's coach on The Voice).
The son of a Dominican father and a Puerto Rican mother, Colon emerged as a musical prodigy early in life. His gifts took him to the University of Hartford's Hartt School of Music, where he founded an a cappella R&B quintet that performed at Harlem's legendary Apollo Theater. Soon after graduating from Hartt with a degree in Music Education, he became lead singer of the neo-funk group EmCQ.
When EmCQ opened for funk-jazz luminaries Soulive, Javier's talents drew the attention of Soulive guitarist Eric Krasno, whose recommendation led to him becoming lead singer of the Derek Trucks Band. Colon spent two years touring with Trucks' group, with the band's eclectic rock/soul/blues/jazz brew providing an impressive vehicle for his talent and versatility. After striking out on his own and signing a solo deal with Capitol Records, Javier released two well-regarded albums in urban-R&B mode, before making the audacious move of casting off that commercial direction in order to pursue a more personal approach to music-making.
After releasing the acoustic EP The Truth on his own label, Javier's career took an unexpected but propitious turn in 2011, when he became the winner on The Voice's first season, receiving a recording contract with Universal Republic Records. The new deal yielded the well-received album Come Through for You as well as the holiday-themed EP A Very Acoustic Christmas. But disagreements over creative direction caused the artist to once again make the decision to seek out a label situation better suited to his musical goals.
"I'm grateful to The Voice for allowing me to be myself in front of tens of millions of people," Javier notes. "It was the greatest thing that could have happened to me, and the experience gave me the confidence to fight to be my real self musically. I was happy with the album that I made for Universal, for the most part, but it was kind of an arranged marriage and it didn't work out. But that's OK, I'm a firm believer in everything happening for a reason. Now I'm in situation with Concord where I can make the music that I've always wanted to make."